First trials in the United States with a new technology based on electromagnetic waves bring hope for millions of patients suffering from Alzheimer's disease.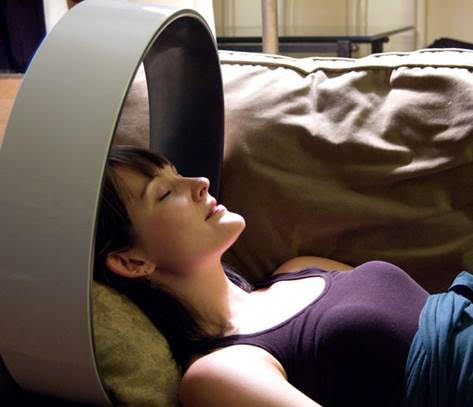 In the past week, NeuroEM Therapeutics has explained that a helmet developed with the support of researchers at the Byrd Alzheimer's Institute at the University of South Florida has improved the cognitive abilities of patients affected by this disease over a period of two months, during a first phase of testing.
Resembling a simple cap, the helmet contains electrodes that emit electromagnetic waves. These penetrate the brain and break down the toxic piles of amyloid beta protein (A-beta) and tau protein, often considered to be the main culprits of Alzheimer's disease.
A-beta protein deposits form plaques in the brain that block the signals that neurons emit from each other. Tau proteins, in turn, can form clumps, which prevents them from playing their role of feeding neurons with nutrients, explains the Canadian Alzheimer Society on its website.
After a two-month trial of eight patients with mild to moderate Alzheimer's disease, the researchers found that seven of them had cognitive improvement. No side effects were detected during this period.
"We were particularly surprised to find that the significant improvement in the ADAS-cog (a scale to measure the cognitive decline caused by Alzheimer's, Ed) was maintained until two weeks after the end of treatment. . The most plausible […] explanation is that the very process of Alzheimer's disease has been affected, "NeuroEM Therapeutics chief executive officer Dr. Gary Arendash said in a statement.
"Probably the best indication that the two-month treatment has a significant clinical effect […] is that none of the patients wanted to return their helmet," said Arendash.
The company now plans to continue testing by recruiting 150 people suffering from the disease by the end of the year. If this new step is successful, NeuroEM Therapeutics plans to ask the US Food and Drug Administration (FDA) to approve its product.
The headset has the advantage that it can be used at home, two sessions of one hour per day, without limiting the patient in its activities.
In Canada, nearly 420,000 seniors aged 65 and over have dementia, including Alzheimer's disease, according to data released by Health Canada in mid-August. The Canadian Alzheimer Society says that about 564,000 Canadians have cognitive illnesses of all ages.
The tests conducted by the researchers were the subject of a scientific article that was published in September in the journal "Journal of Alzheimer's Disease".